The Southern German Apple Cake is a specialty from the South of Germany and is different than other apple cakes. This German apple cake is awesome for any "Kaffee and Kuchen" table, for the holidays, for birthdays and festive occasions. The apples are covered in a creamy dough and will be placed on a light dough. It is easy to make. Even baking beginners will succeed. Try it out and let me know how you liked it. Happy Baking!
Find more original German recipes on www.MyBestGermanRecipes.com by Gaby Utz.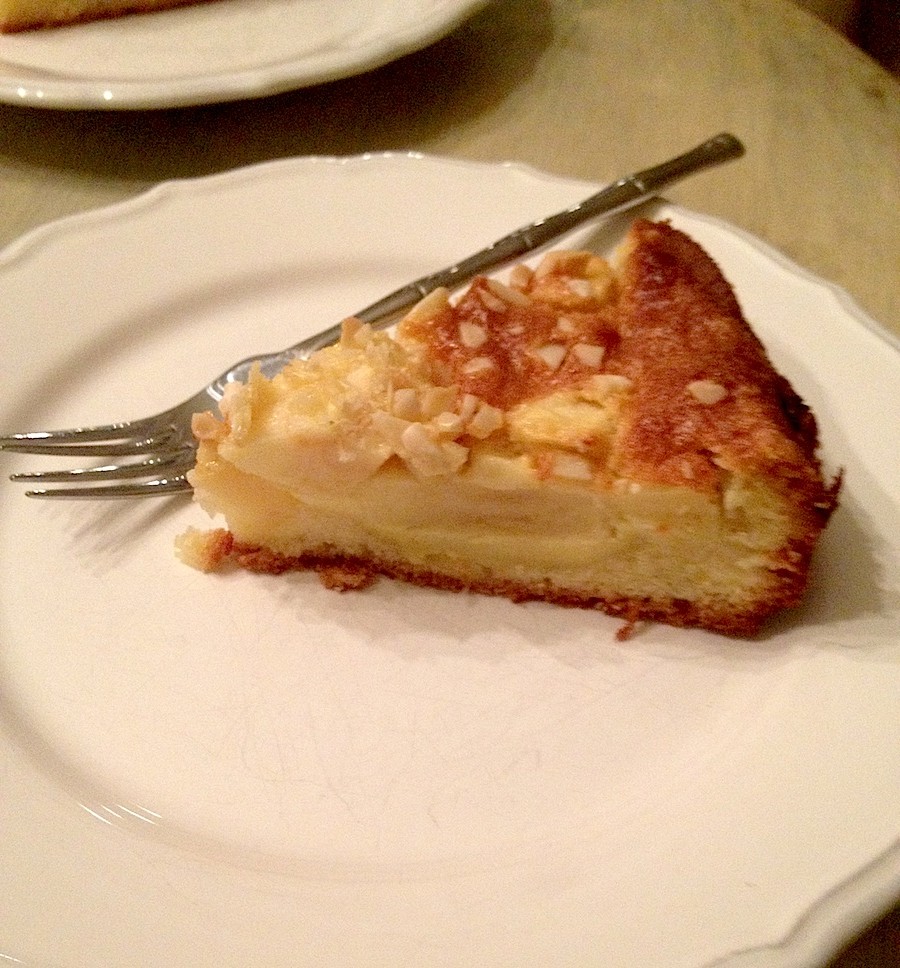 Ingredients
250 g butter
5 eggs
75 g sugar
150 g flour
1/4 tsp baking powder
juice from 1 lemon
5-6 apples
80 g powdered sugar
1 tbsp vanilla pudding powder or starch ( I always use potato starch)
1 tbsp liquid vanilla if you don't use the vanilla pudding powder
butter for the form
1-2 tbsp chopped almonds
Baking Instructions
– pre-heat oven to 350 F.
– grease a spring form and sprinkle with bread crumbs.
– melt 125 g butter, let cool off a bit.
– beat 2 eggs with 75 g sugar until creamy. Mix flour with baking powder and add to egg cream, swiftly mix it and then add the butter.
– fill dough into form, then place it in the fridge for 15-30 min (butter needs to get firm).
– peel apples, remove core and cut in slices, mix with lemon juice to prevent that they become brown.
– soften butter and mix with powdered sugar and pudding powder or starch, add vanilla.
– separate 3 eggs, beat egg whites until firm; add eggs to the cream, mix it gently, then add apple slices and mix it.
– take the form from the fridge and the dough should be firm, make an edge of 1.5 inches, gently press the dough around the spring form.
– add the apple cream.
– sprinkle it with chopped almonds.
– bake for 55 minutes, cover with foil if it should get brown.
– dust with powdered sugar if you like.
Serve it with whipped cream.